369: Big Government Craziness in a Troubled Economy
Podcast: Download
I was a surgical resident for years. I started out as a neurosurgeon, moved over to Otolaryngology Head and Neck Surgery then ended up in cosmetics.
During my training, it didn't matter how much I worked. I would always get the same paycheck. I wasn't lazy but I certainly didn't enjoy working for what amounted to minimum wage. And I was not about to volunteer for any more work than I was assigned.
Eventually I did finish training and I was hired by a facelift company. I know it sounds kind of weird but they would recruit patients with questionable marketing tactics and hired an army of young surgeons to do the work.
I got paid about 15 percent on revenue I generated for the company. They didn't charge as much as your typical facelift surgeon, but because I was doing 3-4 facelifts a day, it turned out to be really good money. For reference, my most recent job was as a chief resident in San Francisco for which I was paid $50K per year (that's poverty in SF).
The day I became a capitalist was the day I got my first real paycheck. In two weeks, I made more than I did in my entire surgical internship year. It blew my mind.
Suddenly I realized that the harder I worked the more money I could make. And that made me work really hard! Suddenly, I was more than happy to put in long hours. I enjoyed doing the procedures and I was good at it. But I also liked the idea that my work was getting proportionally rewarded with dollars.
There was a noticeable change in my spirit. Even though I didn't own the place, I cared about the office and wanted to make sure we were doing a good job. I took ownership and that mattered. After all, in the history of the world, no one ever took a rental car to the car wash.
Of course, like all entrepreneurs, I eventually realized that there was an even better way to make money than getting paid for the amount of work I did for the business—own your own business.
I went on to start multiple businesses and the rest is history. But the moral of the story is that opportunity for those who have talent and work hard is endless in our country and getting paid for the first time gave me my first taste of that. Anything that threatens that reward system threatens the very core spirit of who we are.
Of course not everyone shares my views—especially these days. And it's not always as simple as perhaps I make it sound. We still need to take care of people in need and we still need to provide opportunity for the underprivileged.
This became even more evident during Covid when people simply couldn't work. But I fear some of the remedies of a difficult time have permanently altered our culture. After all, it is difficult to take things away from people after you give it to them.
My guest on Wealth Formula Podcast today was right in the middle of policy making during the Covid crisis and was making decisions like what to do about people who couldn't pay their rent.
What makes his perspective interesting is that he is a libertarian who works for a libertarian think tank. Find out how a small government guy navigated the biggest government intervention in American history on today's economy on this week's Wealth Formula Podcast!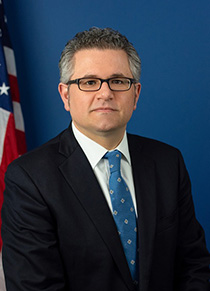 Mark A. Calabria is a senior advisor to the Cato Institute. He provides strategic input and direction on the federal economic policymaking process. He previously served as director of financial regulation at the Cato Institute, where he cofounded Cato's Center for Monetary and Financial Alternatives.
Calabria is the former director of the Federal Housing Finance Agency, which regulates and supervises Fannie Mae, Freddie Mac, and the Federal Home Loan Banks. During his service at the agency, Calabria led the response to COVID-19, as well as laid the groundwork for a removal of Fannie Mae and Freddie Mac from government conservatorship.
Prior to his heading of the Federal Housing Finance Agency, Calabria served as chief economist to Vice President Mike Pence. In that role, he led the vice president's work on taxes, trade, labor, financial services, manufacturing, and general economic issues, including serving as a key member of the team that enacted the Tax Cuts and Jobs Act of 2017 and on the team that crafted the United States‐​Mexico‐​Canada trade agreement. Calabria served as the vice president's primary representative for the U.S.-Japan Economic Dialogue.
Calabria served as a senior aide to the U.S. Senate Committee on Banking, Housing, and Urban Affairs under chairs Richard Shelby and Phil Gramm. During his Senate service, he acted as the primary drafter of the Housing and Economic Recovery Act of 2008, which established a stronger regulatory framework for the government‐​sponsored housing enterprises. He also led the banking committee's response to Hurricane Katrina, as well as its work on the Shelby‐​Dodd Flood Insurance Reform and Modernization Act of 2008, which served as the basis for the Biggert‐​Waters Flood Insurance Reform Act of 2012.
Prior to his Senate service, Calabria served as the deputy assistant secretary for regulatory affairs in the Office of Housing at the U.S. Department of Housing and Urban Development. Calabria has also held positions with Harvard University's Joint Center for Housing Studies, the National Association of Realtors, and the National Association of Home Builders. He holds a doctorate in economics from George Mason University.
Shownotes:
Risk-Based Pricing in Financial Services
The Importance of Credit Scores
Limitations of Landlord-Eviction Pause
The Soundness of the Banking System
Market Caution and Investment Opportunities
Federal Reserve Actions and Inflation